Cascais Intro > Cascais Sights > 1 Week in Cascais > Cascais Beaches > Day Trip to Cascais > Lisbon to Cascais
Casa das Historias Paula Rego
The Casa das Historias Paula Rego museum displays the work of Paula Rego and is housed in one of the most intriguing structures of Cascais. The building first appears of contemporary architecture but at its core it is based on one of the most recognisable palaces of Portugal. The Casa das Histórias Paula Rego makes a brash statement through its colour and design, though not all of conservative Cascais appreciates it.
Paula Rego Museum
Inside the museum art works from Paula Rego and her late husband is displayed with a larger portion dedicated to semi permanent exhibits. As with all museums in Cascais there is no entrance fee, funded by the high levels of tourism and is shut on Mondays. The staff at the Casa das Histórias Paula Rego must be commended for their enthusiasm and knowledge, a quality missing at many other Portuguese museums.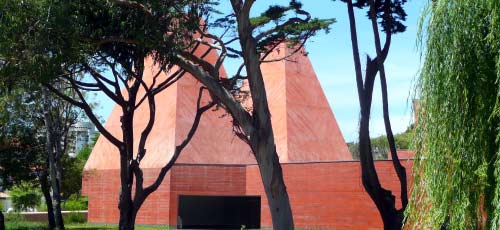 The two red pyramids of the Casa das Histórias
The exterior and interior of the Casa das Histórias Paula Rego should not be missed even if museums and art galleries are not the prime motive to visit Portugal. The exterior of the Casa das Histórias, Cascais is painted in a brash terracotta colour which neither blends in with the lush green surroundings of the parks or the subtle yellow of the nearby Sea Museum once the old royal lodge. The dominating features of the complex are the two towers which closely resemble chimney also painted the powerful red colour. These towers were inspired by the characteristic shape of the National Palace of Sintra which again has two district chimney towers.
Details of the Casa Historias Paula Rego
Inside the interior is painted a brilliant white common in many museums that bath the art in brilliant natural light. This leads the visitor to ask an interesting question, where does all of the natural light come from as the building appears to be a windowless structure from the outside. The windows have been position as to blend in with the overall structure and not to be a focal point, so either at ground level on the corners of the complex. The cafeteria and shop are light by the large windows at the top of the towers but as the walls are painted white few visitors even consider looking up due to the loss of perspective between wall and sloping roof.
The layout of the Casa das Histórias Paula Rego is set to disorientate visitors so instead of feeling as passing in a circular route the tour is a mixture of turns and twist that of a labyrinth. The entire Casa das Histórias museum is a wonder of modern architectural design and truly should be experienced. The permanent exhibit which I was able to observe comes from Paula Rego's personnel collection from her 1980 collection of large mural graphic art. Paula Rego's artistic style is often compared to that of cartoon illustration.