Cascais Intro > Cascais Sights > 1 Week in Cascais > Cascais Beaches > Day Trip to Cascais > Lisbon to Cascais
Cascais Portugal – Tourism and Holiday Guide
Cascais is a delightful Portuguese fishing town that is situated on the western edge of the stunning Lisbon coastline. Cascais is the region's most popular holiday destination, and during the summer it is a bustling resort town, with a buzzing holiday atmosphere.
Historically, Cascais was a minor fishing village, until King Luís I (1838 - 1889) selected it as his royal summer retreat. Trailing the Portuguese nobility were the high society of Portugal, who in turn constructed lavish villas, grand mansions and exquisite gardens. Today, Cascais is an elegant blend of grand 19th-century architecture, traditional Portuguese charm and outstanding tourist facilities.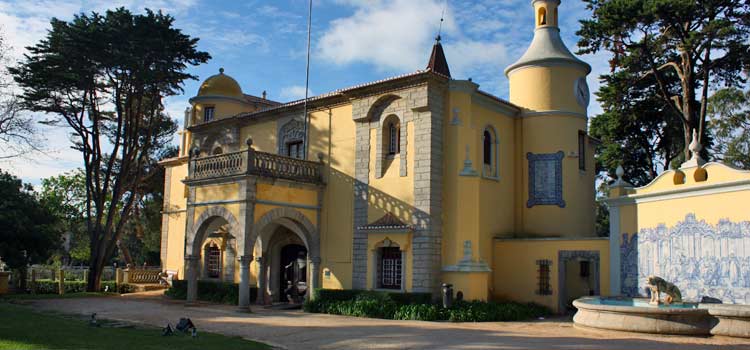 The Castro Guimaraes Museum
Cascais is not just a wonderful holiday destination; it is also a fascinating day trip packed with numerous historic buildings, interesting museums and a scenic town centre. Surrounding Cascais is a beautiful coastline of calm, sandy beaches (which are family friendly), while to the north are the wild surfing beaches of the Serra da Sintra coastline. Cascais is the finest resort town of the Lisbon region, and this article will provide an introduction for visitors who are considering a holiday or day trip to this wonderful town.
Highlights of Cascais Portugal
The stunning Guincho beach in the Serra de Sintra National Park
Why have a holiday to Cascais?
As a holiday destination, you will struggle to find a better location than Cascais; there are world-class hotels, excellent restaurants and a buzzing nightlife scene, all set within the traditional streets of the historic centre. There is a lot to see and do in Cascais and the beaches of the region are simply fantastic; Guincho is an incredible surfing beach, while Carcavelos beach is ideal for families and sun-worshippers. For those who tire of the wonderful beaches, there are many interesting day trips, including; Lisbon, Sintra, Mafra, Ericeira and Praia das Maçãs, all of which are easily accessible by public transport.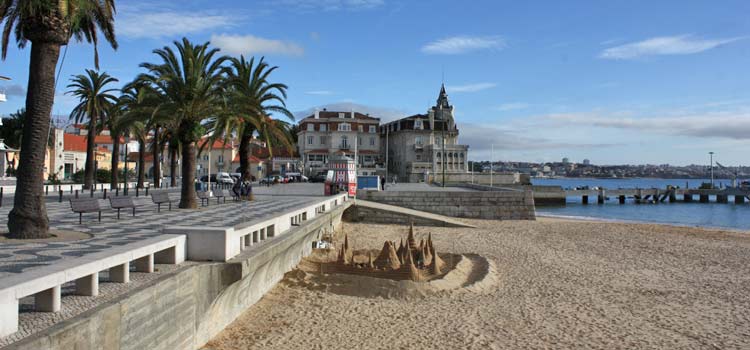 The promenade is very scenic and a pleasant walk
Cascais is a resort that has grown and matured responsibly, while still retaining its fishing and royal heritage. There is a sophisticated and prosperous ambience about Cascais, and the appearance the town is not afflicted by ugly apartment or skyrise hotels. In the summer Cascais is primarily a family holiday destination, with a diverse mix of European nationals, either side of the peak months it is a popular location for couples of all ages. Cascais should never be considered as a destination for drink-fuelled groups or loutish holidays; Cascais has a touch of class.
Is a Cascais an enjoyable day trip from Lisbon?
Cascais is one of the best excursions from Lisbon, as it offers a variety of historic monuments, grand houses and interesting museums. At the heart of Cascais is the pretty Old Town that has retained its traditional Portuguese character. Along the waterfront is the new restored fort which contains an artisan hub, the exclusive marina and the working fishing harbour. Away from the town and beaches are scenic coastal walks along the cliffs to Cabo da Rocha, or that follow the beach promenade to Estoril. There is a lot to see and do in Cascais, and this guide details the major sights and activities in Cascais.
The Estoril Casino is close to Cascais
There is a regular train between Lisbon and Cascais, making the town easily accessible for all, while for lunch there is an extensive selection of excellent restaurants or beach bars. Cascais is a highly recommended day trip for visitors on a longer (4+ days) holiday to Lisbon and our suggested order for excursions is; 1) Sintra (day one), 2) Cascais, 3) Obidos, 4) Setubal 5) Mafra & Ericeira 6) Sintra (day two).
Cascais for 2018 and the summer season
The Portugal is currently experiencing an unparalleled rejuvenation; new businesses are opening, hotels are being refurbished and there is a sense of confidence and optimism about the Lisbon region. Cascais is expecting a stellar summer season for 2018, and this follows the sell-out summer of 2017.
This does mean that to secure the best prices, accommodation and flights must be booked far in advance. Fortunately, many of the hotels reserved via the larger booking websites do not require a deposit, therefore negating any monetary penalty if plans are changed. If you are seriously considering a holiday to Cascais, our advice is to book accommodation now, as the best places will sell out; for a summary of the best hotels in Cascais please click here.
......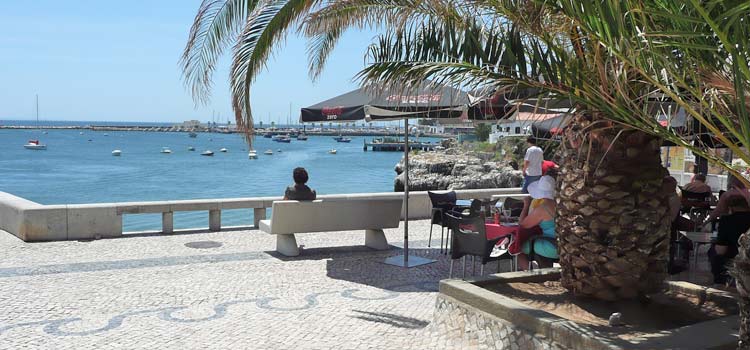 Overlooking the fishing harbour of Cascais
What about for families?
Cascais is a great destination for families and children. Having children also, we would recommend Cascais based on the following:
• The beaches are safe, with clean and calm sea waters, which are supervised in the summer.
• Children will be welcomed in all restaurants and the Portuguese are a very family focused nation.
• There is a lot to entertain children in Lisbon, which is only a short train ride away (for a guide please click here).
• Supermarkets stock all common items, and pharmacies are widely available all minor ailments.
• English is widely spoken by all who work within the tourist industry, language will never be a problem.
• It is only a short transfer from the airport to Cascais.
The main issues, which are general to the whole of Portugal, is the intense summer heat and that the main resorts will be very busy in the summer. If you are restricted to visiting during holidays always book as far in advance as possible.
When to Visit Cascais?
Cascais has long hot summers, pleasant spring and autumns seasons, and mild but possibly wet winters. The weather is suitable for spending time on the beach from mid-May until the end of September. The sea temperature of Cascais is always chilly, even in the summer when the water temperature only reaches 21C.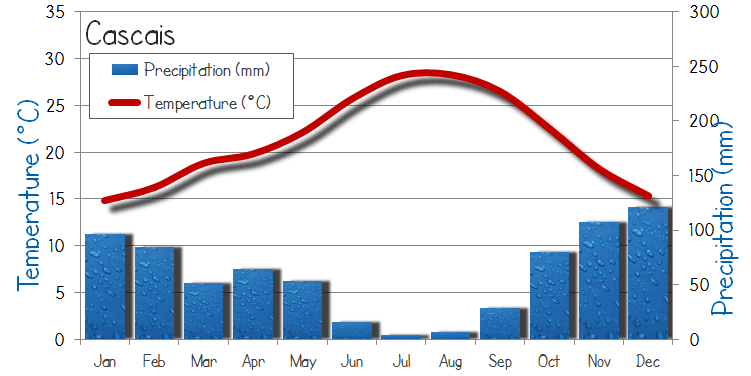 The Average Weather of Cascais Portugal
Cascais for twentysomethings and young couples
Great weather (yes), inexpensive (yes), lots to do (yes), nightlife (yes), drunken parties (no).
Twentysomethings and young couples wanting a fun and varied holiday should seriously consider Cascais. Cascais can provide an enjoyable mixed holiday; beautiful beaches, numerous day trips and social nightlife. Cascais is no resort town that is stuck in the middle of nowhere, close by is Lisbon and this is a vibrant and buzzing city. Certain visitors may wish to consider being based in Lisbon and then travel out for the beaches (which is easy).
The Cascais region is set up to be explored independently, extensive public transport, English widely spoken and hassle-free travel. Portugal as a whole is an inexpensive holiday destination with food, drink and transport significantly cheaper than many of the other popular European resorts (Greece, Balearic Islands). All of the low-cost airlines fly into Lisbon and for the best value, choose holiday dates either side of the school holidays.
Does Cascais have great beaches?
Surrounding Cascais are two contrasting coastlines; the northern wild and rugged surfing beaches and the family-friendly beaches that extend to the east. Guincho beach is considered as one of the finest surfing beaches of western Portugal and is set amidst the stunning scenery of the Serra de Sintra Natural Park.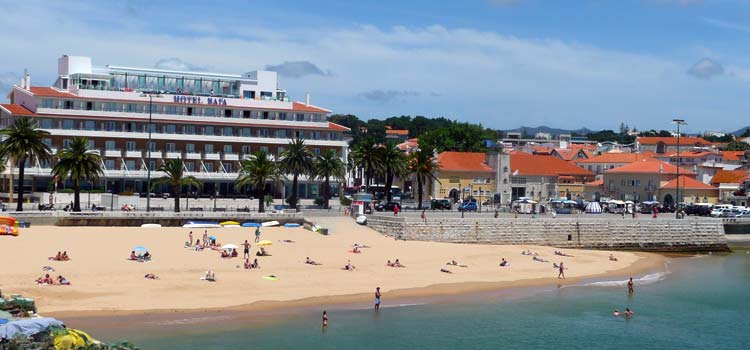 The beaches of Cascais
The coastline to the east of Cascais is lined with great beaches, including Carcavelos and São Pedro beaches. These beaches are a favourite with the residents of Lisbon, who flock to them during the long, hot summer months. This coastline is easily accessible from Cascais, as it is served by the regional railway that connects Lisbon and Cascais. For a guide to the beaches of Cascais, please click here.
Why is Cascais known as the Town of Kings and Fishermen?
Unlike many other Mediterranean beach resorts, which suddenly sprung up with the advent of mass tourism, Cascais has been established as a holiday destination since the early 19th century. Historically Cascais was a minor fishing port but this forever changed when King Luís I (1838 - 1889) proclaimed Cascais as his favoured destination for his summer retreat.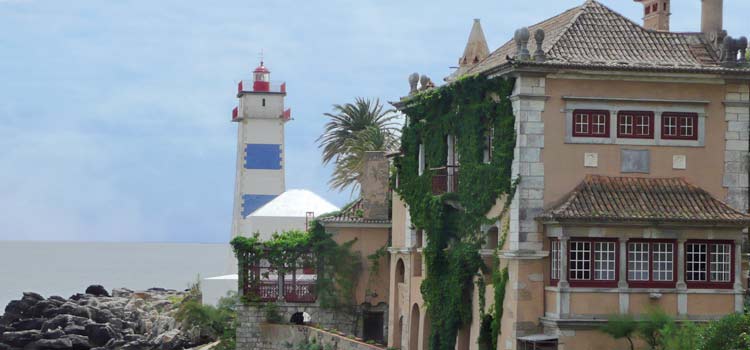 The grand 19th century buildings of Cascais
The decampment of the Portuguese nobility from Lisbon to Cascais during the summer months encouraged the 19th-century high-society of Europe to flock to Cascais as well. This influx of money and political power funded the construction throughout the town of grand residences, lavish entertainment venues and fine parks.
The two extremes of people who lived in the town gave rise to Cascais' popular nickname of "The Town of Kings and Fishes". This trend of the high-society has continued through to the present day, with many of Lisbon's rich and famous living within the vicinity of Cascais, providing the region with a prosperous and sophisticated atmosphere.
Travel from Lisbon (and the airport) to Cascais
Cascais is connected to Lisbon by a regular and inexpensive railway. The train departs from the Cais do Sodre train station (green metro line), the journey takes 30-40 minutes, and a return ticket costs €4.30; for a full guide to the Lisbon-Cascais train service, please click here. Travel from Lisbon airport to Cascais using public transport requires both the metro and train and takes around 1.5 hour, for a guide to travelling to Cascais from Lisbon airport please click here.
The Lisbon to Cascais train