Cascais Portugal – Tourism and Holiday Guide
Cascais is a charming Portuguese fishing town that is situated on the western edge of the beautiful Lisbon coastline. Cascais is a historic and prosperous town that is filled with grand houses, carefully maintained parks and numerous free museums. There is a lively and social atmosphere about the town and it is only a short walk to glorious sandy beaches. Cascais' varied sights, attractions and activities make it a fantastic holiday destination or enjoyable day trip from Lisbon. This guide will provide an introduction to Cascais and links to further in-depth information.
Highlights of Cascais
The wild and rugged surfing beaches of Guincho.
The stunning Guincho beach in the Serra de Sintra National Park
The pretty historic centre of Cascais, filled with traditional restaurants, open air cafes and late night bars.
The Praia dos Pescadores beach (Praia Ribeira)
A stroll along the beach front promenade that connects Cascais to Estoril..
The promenade is very scenic and a pleasnt walk
The Castro Guimaraes museum and the impressive 19th century architecture found throughout Cascais.
The Castro Guimaraes musuem
Why is Cascais known as the Town of Kings and Fishermen?
Unlike many other Mediterranean beach resorts, which suddenly sprung up with the advent of mass tourism, Cascais has been established as a holiday destination since the early 19th century. Historically Cascais was a minor fishing port but this forever changed when King Fernando II (1816-1885) proclaimed Cascais as his favoured destination for his summer retreat.
The castle over looks the exculisve marina of Cascais
The decampment of the Portuguese nobility from Lisbon to Cascais during the summer months encouraged the 19th century high-society of Europe to flock to Cascais as well. This influx of money and political power funded the construction throughout the town of grand residences, lavish entertainment venues and fine parks.
The two extremes of people who lived in the town gave rise to Cascais' popular nickname of "The Town of Kings and Fishes". This trend of high-society has continued through to the present day, with many of Lisbon's rich and famous living within the vicinity of Cascais, and provides the region with a prosperous and sophisticated atmosphere.
The grand 19th century buildings of Cascais
Why have a holiday to Cascais?
Cascais is a fantastic holiday destination; it is only a short train ride to vibrant Lisbon or bus ride to charming Sintra and the Serra de Sintra National Park. The beaches of Cascais are simply fantastic; Guincho beach is a tremendous surfing beach, while the Praia de Carcavelos is a massive beach easily accessible by train. For a suggested itinerary for a 1 week holiday to Cascais please click here.
Cascais offers exceptional value for money and contains a wide range of hotels that are able to cater for all visitor types. At the centre of Cascais is the old town, which has retained its traditional appeal and is an enjoyable place to relax during the day. As the sun sets, the fine restaurants serve up freshly caught fish or other local specialities. The trendy bars are lively and continue late into the night – but Cascais is a resort firmly aimed at couples (of all ages) and young families and not for groups looking for cheap drink.
Is Cascais a good day trip from Lisbon?
Cascais is one of the best day trips to take from Lisbon as it offers an enjoyable variety of historic monuments, grand houses and interesting museums. There are pleasant coastal walks either along the cliffs to Cabo Rocha, or along the beach promenade to Estoril. In Cascais there are sufficient sights and activities to fill a day's sightseeing.
Estoril Casino is close to Cascais
The direct train means that it is very easy to travel to Cascais and the town offers a selection of good restaurants and cafes for a relaxing lunch. An excursion to Cascais is highly recommended for visitors on a longer holiday to the Lisbon region. The suggested order of excursions from Lisbon is; Sintra, Cascais, Obidos, Sesimbra (Serra da Arrábida) and then Mafra. For a guide to the best day trips from Lisbon please read this article.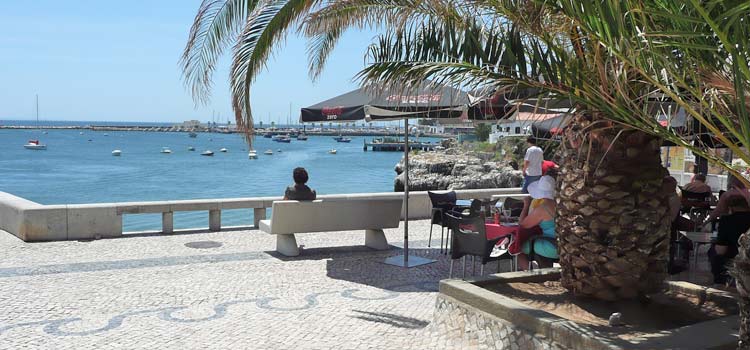 Overlooking the fishing harbour of Cascais
Does Cascais have great beaches?
Surrounding Cascais are two contrasting coastlines; the northern wild and rugged surfing beaches and the family friendly beaches that extend to the east. Guincho beach is considered as one of the finest surfing beaches of western Portugal and is set amidst the stunning scenery of the Serra de Sintra Natural Park.
The beaches of Cascais
The coastline to the east of Cascais is lined with great beaches, including Carcavelos and São Pedro beaches. These beaches are a favourite with the residents of Lisbon, who flock to them during the long, hot summer months. This coastline is easily accessible from Cascais, as it is served by the regional railway that connects Lisbon and Cascais.
Travel from Lisbon (and the airport) to Cascais
Cascais is connected to Lisbon by a regular and inexpensive railway. The train departs from the Cais do Sodre train station (green metro line) and the journey takes 30-40 minutes. A return ticket costs €4.30 and for a full guide to the Lisbon-Cascais train service please click here. Travel from Lisbon airport to Cascais using public transport requires both the metro and train and takes around 1 hour, for a guide to traveling to Cascais from Lisbon airport please click here.
The Lisbon to Cascais train