Casa de Santa Maria, Cascais
The Casa de Santa Maria is a grand 19th century stately home that has a prime coastline location in the Portuguese town of Cascais.
The House of Saint Mary was constructed by an Irish millionaire who made his fortune in the tobacco industry and was once the most luxurious private residence of Cascais.
The Casa de Santa Maria blends many different architectural styles and influences to create an unique building which is, as publicly owned, open for visitors to marvel at.
Casa de Santa Maria Tourist Information
The Casa de Santa Maria lies to the southern edge of Cascais on the Avenue Rei Humberto Ii de Itália, opposite the Condes de Castro Guimarães Museum and next to the blue and white lighthouse. As with all museums and publicly owned buildings in Cascais there is no entrance fee.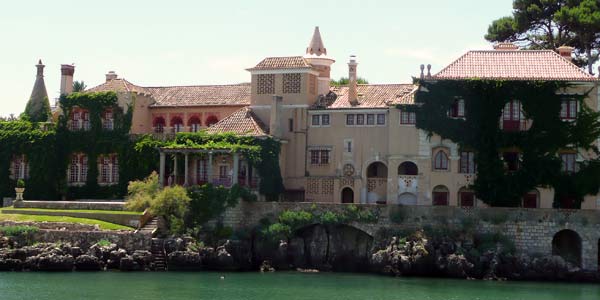 The pretty Casa Santa Maria in central Cascais
The opening hours are from 10:00-13:00 and 14:00-17:00 from Tuesday through to Sunday but is closed on Mondays and public holidays. Most visitors spend 30-40 minutes viewing the Casa de Santa Maria and adjoined gardens and combine a visit with the light house which is next door.
History of the Casa de Santa Maria
The house was initial constructed in 1902 but under went two significant renovations altering both the interior and added further rooms. The earliest stages of the construction of the Casa de Santa Maria was funded by George O'Neil who was an aristocrat and had amassed his personnel fortune by the lucrative tobacco industry of the late 19th century.
George O'Neil commissioned architect Raul Lino to design the Casa de Santa Maria and was instructed to disregard common European styles of the era and base the project on materials found only within Portugal.
This defiance of style and fashion lead the architect to be heavily influenced by the Moorish style of construction, which had shaped many of Portugal's finest buildings. The Arabic influence is is most prominent inside the building with horse shoe arches connecting the central rooms.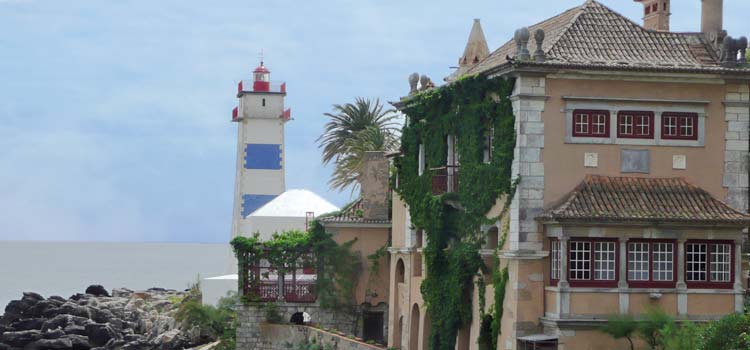 The Casa Santa Maria and Cascais lighthouse
The ground floor is lined with traditional painted tiles but these tiles where not commissioned for the house but salvaged from a crumbing chapel in the centre of Lisbon.
There were two further construction periods during 1914 and 1918 but the house was sold back to the the architect brother during the depression years after the First World War. The Casa de Santa Maria was owned by numerous wealthy families and European royal families up until 2004 when the council of Cascais where able to purchase the house.
Our most popular guide for Cascais and Lisbon
Cascais-Portugal.com, Sintra-Portugal.com and Lisbon-Portugal-Guide.com with over 800 pages,
if its not here it's probably not in Cascais, Estoril or the Lisbon coastline!