Cascais or Estoril - Which for a holiday?
Cascais and Estoril are two popular beach resorts that are situated on the beautiful Lisbon coastline. Both Estoril and Cascais make for outstanding holiday destinations and offer wonderful beaches, interesting day trips and a social holiday atmosphere. This guide will provide a comparison of Cascais and Estoril and identify which is more suitable for your holiday.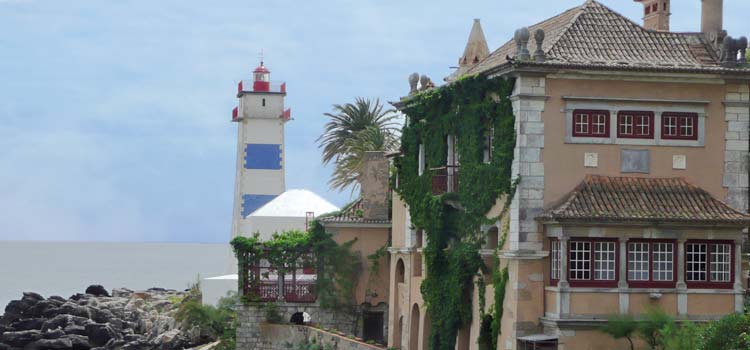 The grand buildings of Cascais
Overview of Cascais and Estoril
Historically, Cascais was a minor fishing port, which was discovered in the 19th century by the Portuguese nobility, who transformed the sleepy town into a fashionable royal retreat. Today Cascais is a prosperous and lively town that offers grand mansions, pretty parks and a busy fishing harbour.
Estoril developed later, and became a major tourist destination with the construction of the grand Estoril Casino, which to this day is still one of the largest casinos in Europe. The writer Ian Fleming was inspired to create his legendary hero, James Bond, based upon the intrigue and events that played out in the historic casino. Estoril is a sophisticated town but with the historical charm of Cascais.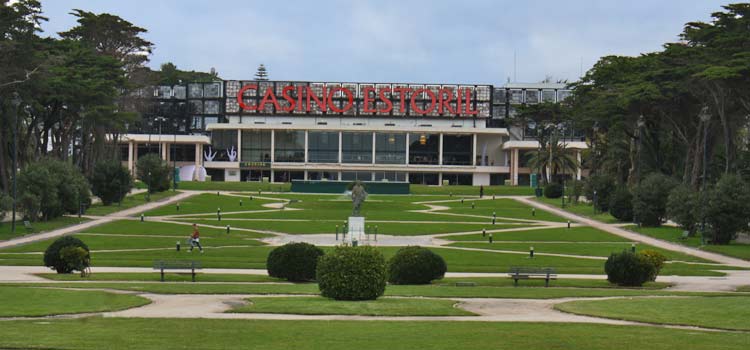 The Casino of Estoril
What is the distance between Cascais and Estoril?
This article will provide a comparison between the two towns, but it should be noted that they are next to each other. It is only a short walk (2km) from Estoril to Cascais, and the route follows the pleasant coastal promenade. It is possible to catch the train from Cascais to Estoril (€1.50 single) but for the short journey it is far more practical to take a taxi/Uber (approximately €7).
Cascais or Estoril for Beaches?
Cascais has four beaches which are within walking distance; two are scenic and not really suited for a beach day, while the Praia da Conceição and Praia da Duquesa fill up rapidly in the summer. Estoril has a single beach, the Praia de Tamariz, which is again very popular in the summer. So, realistically both towns are very similar.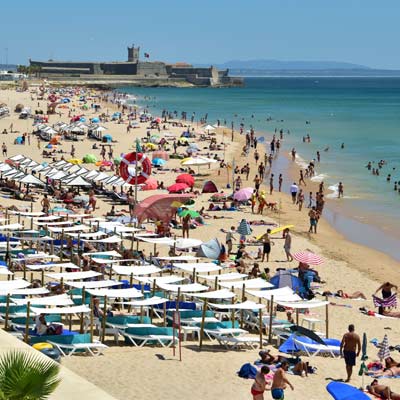 The glorious beaches near Cascais
Larger beaches can be found to east, and include the Praia de Carcavelos, the best beach of the Lisbon coastline. Carcavelos can be reached by the train that departs from both towns. To the north of Cascais is the vast surfing beach of Praia do Guincho. Guincho has a remote and isolated atmosphere but there are limited public transport connections and is not really suited for families.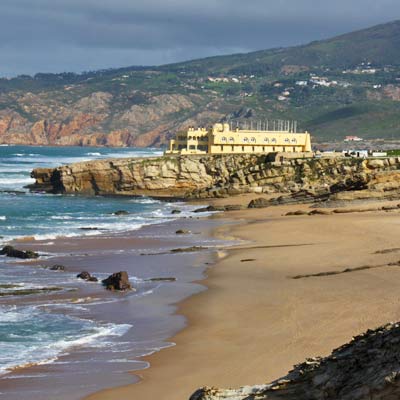 Guincho Beach is north of Cascais
Estoril or Cascais for Sights?
Cascais has many more historical sights than Estoril. Popular sights in Cascais include Cascais fort, the Condes de Castro museum and the Paula Rego art gallery. Between these sights are grand 19th-century homes, shady parks (Parque Marechal Carmona) and a selection of other free museums (Sea Museum, Centro Cultural and the Santa Marta Lighthouse). There are sufficient sights in Cascais to fill a full day of sightseeing, and this is why it is a popular day trip from Lisbon. Estoril has a single main attraction; the Casino, and there are almost no historic buildings in Estoril.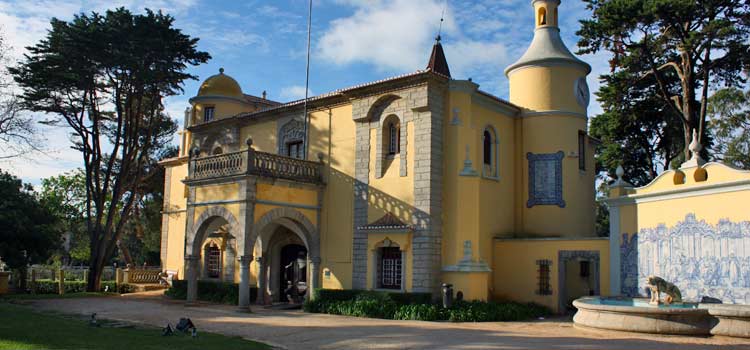 The Guimarães museum in Cascais
There are sufficient sights in Cascais to fill a full day of sightseeing, and this is why it is a popular day trip from Lisbon. Estoril has a single main attraction; the Casino, and there are almost no historic buildings in Estoril.
Cascais or Estoril for tourist facilities?
In the historic centre of Cascais (the Largo de Camões) there is a wide range of restaurants serving traditional Portuguese cuisine or popular foreign foods such as Italian, Chinese, Indian or British. There are also a good number of bars and late-night clubs. Estoril has less choice than Cascais and the night-time entertainment is focused around the casino.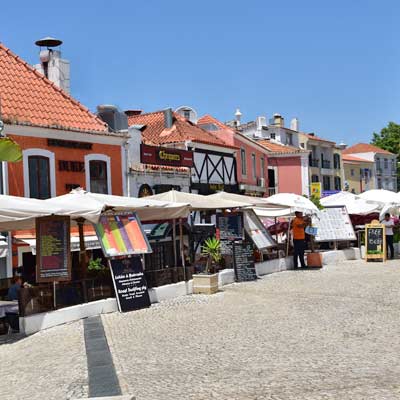 The shops and restaurants of central Cascais
Cascais and Estoril are connected to Lisbon by a regular (departures every 20 minutes) and inexpensive (€2.20 adult single) train service which also makes transfers from the airport relatively easy and inexpensive. Accommodation in both towns fills up quickly during the summer months, so it is advisable to book hotels well in-advance.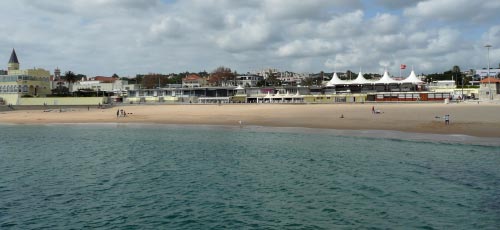 The beach of Estoril
Conclusion
We personally prefer Cascais to Estoril. There are many more sights and activities in Cascais, and the best beaches are easily accessible from both towns. Cascais makes for a great destination for a holiday; please click here to read our suggested guide for a one week holiday to Cascais.
Our most popular guide for Cascais and Lisbon
Cascais-Portugal.com, Sintra-Portugal.com and Lisbon-Portugal-Guide.com with over 800 pages,
if its not here it's probably not in Cascais, Estoril or the Lisbon coastline!