Cascais Intro > Cascais Sights > 1 Week in Cascais > Cascais Beaches > Day Trip to Cascais > Lisbon to Cascais
Cascais Day Trip (1 day Itinerary and Tour)
For a guide to the day trips from Cascais please click here
Cascais is the finest resort town of the Lisbon coastline, and makes for an enjoyable destination for a day trip. Cascais is set along a beautiful coastline of sandy beaches and rocky headlands, while within the town are grand mansions, fascinating museums and attractive parks. There is a lot to see and do in Cascais and it is a highly recommended day trip.
Historically, Cascais was a minor fishing port, until the Portuguese nobility transformed the town into a decadent summer retreat, filled with grand villas and lavish venues. Today, Cascais is a charming and prosperous town that responsibly blends elegant 19th century architecture with modern tourist facilities.
Cascais is a popular holiday destination but is as equally suited for a day trip, and it is very easy to travel to from Lisbon. This guide will provide an introduction to a day trip to Cascais and includes a suggested 1-day itinerary and travel information.
Quick Overview of Cascais
Cascais is an easy day trip
Cascais is a hassle-free day trip, and s suitable for all. Cascais is connected to Lisbon by a direct and inexpensive train, which terminates in the centre of the town. All of the main tourist attractions can be easily walked to and as it is a buzzing resort town there are plenty of excellent restaurants and cafes. Unlike Lisbon and Sintra there are no steep hills in Cascais.
A tour?
An organised tour is a great way to discover Cascais. Over the last 5 years we have worked with GetyourGuide.com, and some of their best tours are:
Lisbon to Cascais
There is a direct train which connects Lisbon to Cascais which departs from the Cais do Sodré train station in Lisbon. Cais do Sodré is the final stop on the green metro line and is only a short walk from the popular tourist district of Baixa. A single train ticket costs €2.25/€1.15 (adult/child), and is charged to the Viva Viagem card.
Related articles: Lisbon to Cascais
Don't rush Cascais
Cascais has sufficient outstanding sights and activities to deserve a full day of sightseeing. Trying to combine both Sintra and Cascais into one day is just too much, and if using public transport, a large portion of the day will be spent waiting for trains or buses. There are many organised tours which combine the two towns, and these are good for tourists limited by time, but if you are visiting independently plan one day for Cascais and two days to Sintra.
Suggested Itinerary for a day trip to Cascais (based around public transport)
The following is a suggest 1-day itinerary for a day trip to Cascais.
The tour route can be seen on the interactive map below
• Catch the train from Cais do Sodré (details later on)
• Have a coffee in beach bar above the pretty Praia da Rainha beach
• Wander down the pedestrian shopping street of Rua Frederico Arouca
• Explore historic centre filled with shops, restaurants and cafes
• Visit the Praia da Ribeira beach, this includes the town hall, Palácio Seixas and the beach Praia da Ribeira
• Explore the restored Nossa Senhora da Luz fort
• Admire enviously at the expensive yachts in the Cascais Marina
• Museu Condes de Castro Guimarães (highlight of the day)
• Relax in the Parque Marechal Carmona

• Santa Marta house and lighthouse
• Follow the cliffs of the coastline to the Boca do Inferno (1km walk)
• Casa das Histórias Paula Rego art museum
• Museu do Mar (sea musuem)
• The baroque Igreja da Assunção
• Lunch in the Largo Luís de Camões
• Follow the beach promenade from the Praia da Conceição (GPS 38.70025, -9.41709)
• The promenade walk is 2km and passes the Palácio dos Duques de Palmela, Piscina Oceânica Alberto Romano the Praia das Moitas beach and ends at the Forte da Cruz and the Praia do Tamariz beach
• Visit the Casino Estoril and Park Jardim do Estoril
• Catch the train back from Estoril train station to Lisbon
If you have a car
There is no need for a rental car for a day trip to Cascais but with one the following sights could be added:
• The stalls and markets of the Casa da Guia (GPS: 38.69541, -9.44319)
• Forte de São Jorge de Oitavos (GPS: 38.69952, -9.46817)
• The stunning scenery of Guincho beach (GPS: 38.7313, -9.47215)
• Cabo da Roca, the western most point of main land Europe (GPS: 38.77913, -9.50031)
• Santuário da Peninha, from this little ruined chapel are amazing panoramic views (GPS 38.76826, -9.46032)
Note: there is very limited car parking in Cascais, especially in the summer; we never recommend driving to Cascais for a day trip.
Cascais Activities
Cabo da Roca – The Cabo da Roca is a headland of huge cliffs and powerful seas, which is the westernmost point of mainland Europe. The 403 bus service connects Cascais to Cabo da Roca, and this bus departs from the bus station at the Cascais Villa Shopping Center. Cabo da Roca is a romantic destination to watch the sun set, but unfortunately a car is needed as there are no suitable bus connections.
Related article: The Cabo da Roca
Praia da Rainha – The Praia da Rainha is one of the prettiest beaches of the Lisbon coastline, and though tiny, it is one of the most scenic places for a relaxing day on the beach. This tiny beach was the private beach of Queen Amélia during the 1880s, which gave rise to the name Queens's beach (Praia da Rainha).
Cycle to Guincho - One of the best activities of Cascais is to cycle along the to the Grande do Guincho. This routes of around 10km (each way) follows a purpose-built cycle path and skirts the craggy cliffs of coastline. This is a very scenic cycle path and passes the Casa da Guia, a great place for a refreshment break. Bikes can be hired for €10 per day, or there are free Bicas bikes (ID required, but basic bikes), Related article: Cycle to Guincho beach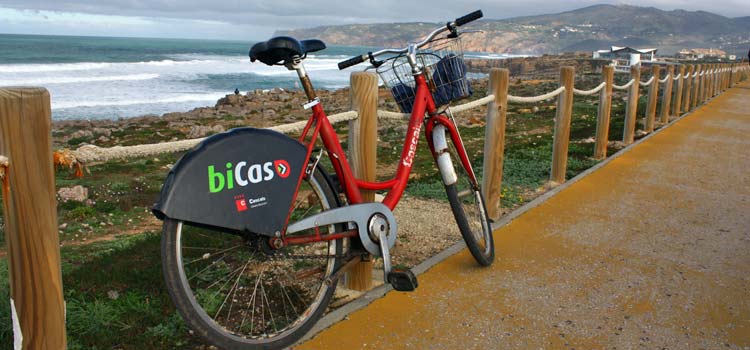 The Bicas bikes, only basic but free......